Grow your food blog in six weeks with my proven method.
This six-week bootcamp-style course with Cheryl Malik from 40 Aprons covers everything you need to grow your food blog - no matter if you're just starting or already seeing 100,000+ pageviews a month. From food photography to SEO, social media to video, making money to nailing sponsored campaigns, this course includes exclusive, direct consultant access to Cheryl, along with an exclusive mastermind group of peers.
Regularly priced at $1100, now $750 FOR A LIMITED TIME!
From a six-figure (almost seven!) food blogger
Hi! I'm Cheryl Malik, the blogger behind 40 Aprons, Easy Healthy Recipes, and food blog VA agency 40A.
I've been making a full-time six-figure income from my food blog for over three years. I know the struggle that come with food blogging!
I developed a proven method for growth that helped us catapult our food blogs into consistent growth. I've shared this method with dozens of private clients over the last few years with incredible results, and I'm finally opening up that information to a more affordable group setting.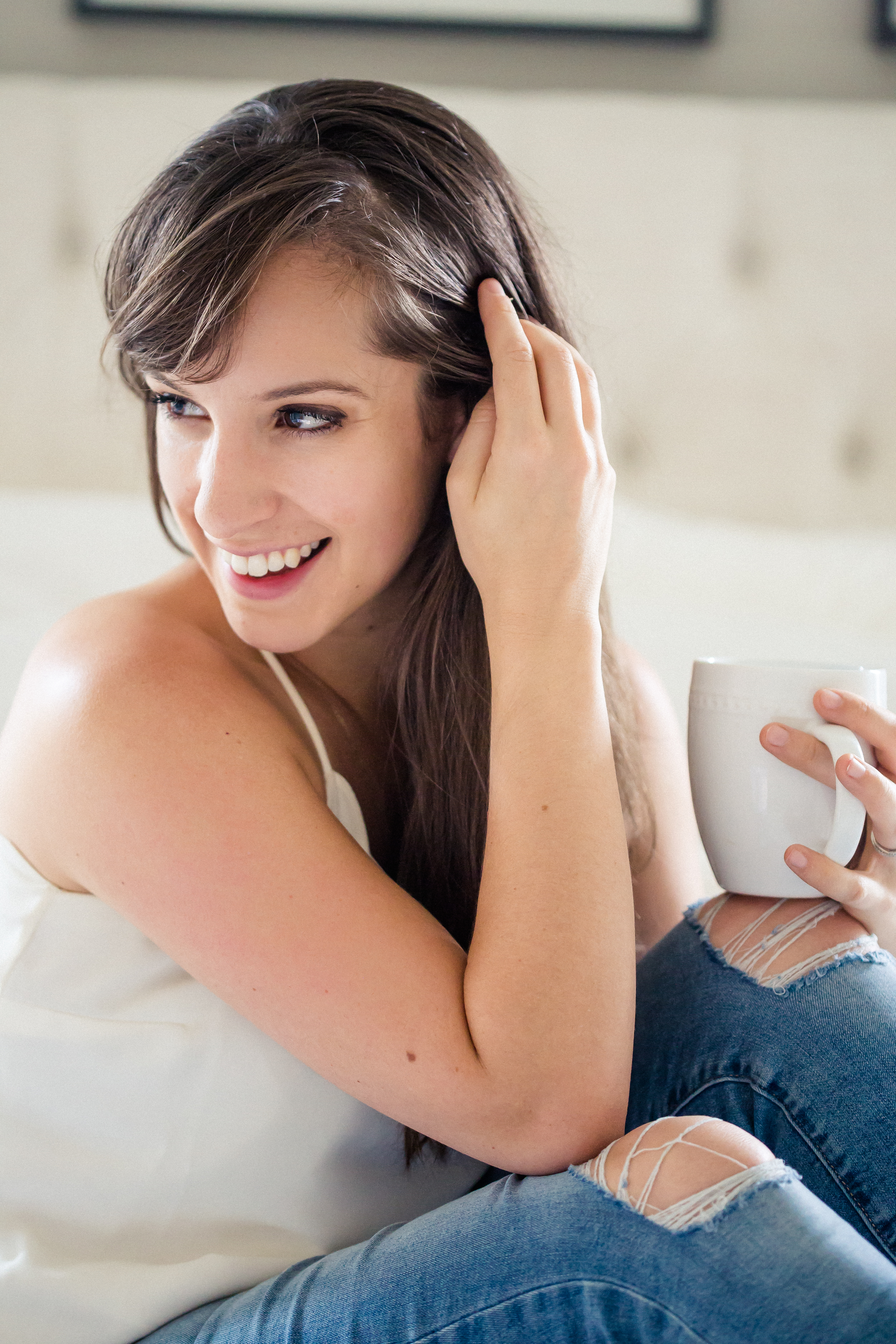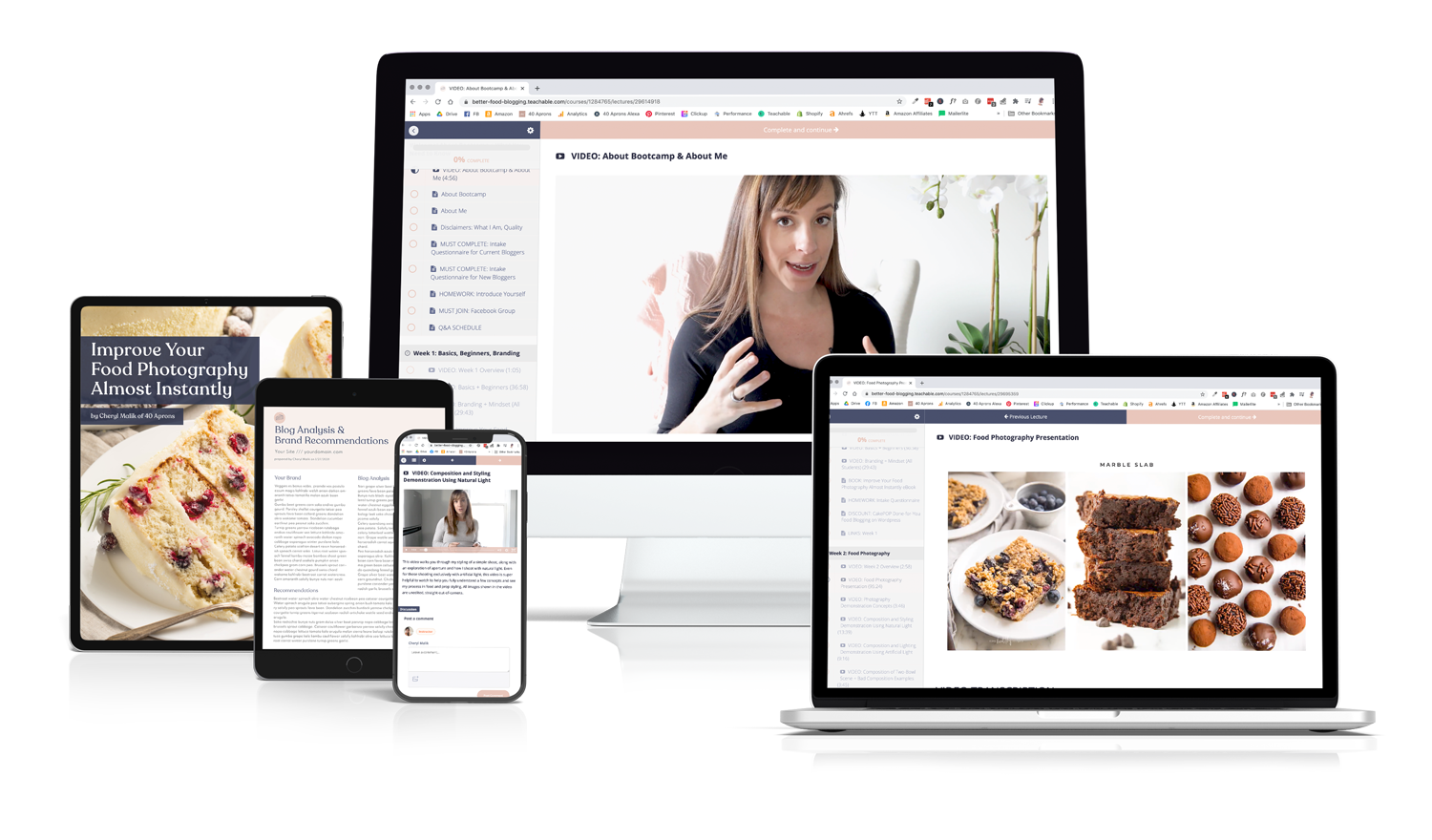 Well, just about everything but the kitchen sink.
 The six-week course includes everything you need to take your food blog to the next level... or launch it. That's right, the course is structured in a way that allows both seasoned bloggers to level up their existing sites AND to allow beginners to start their site from scratch.
Not just another online course, the bootcamp includes direct consultant access to Cheryl in the exclusive Facebook group, her food photography book, presets, and lifetime access to the course materials, videos, handouts, and templates.
Total value? $2,325. That's a discount of $1,575... no big deal!
01 Lifetime Access to Course Material
Access to the Bootcamp course materials is available anywhere, at any time, from any device. After the course is over, you'll be able to access the course materials whenever you need a refresher!
Value: $1500
02 Direct Consultant Access to Cheryl
Bootcamp includes exclusive access to a Facebook group where you can ask Cheryl ANYTHING at all about food blogging, with thorough, personalized responses.
Value: $750
03 Improve Your Food Photography Almost Instantly eBook
Cheryl's super practical food photography book has helped both total newbies and seasoned pros level up their food photography. A copy of the book is included with every Food Blogging Bootcamp lifetime membership.
Value: $35
04 Food Photography Lightroom Presets
Streamline your time editing food photos in Lightroom with Cheryl's pack of food photography presets, including presets for Backlit Food, Dark Moody Shadows, Vintage Matte, Basic Food Photos, Quick Edits, and Flash Basics.
Value: $40
But what does bootcamp cover?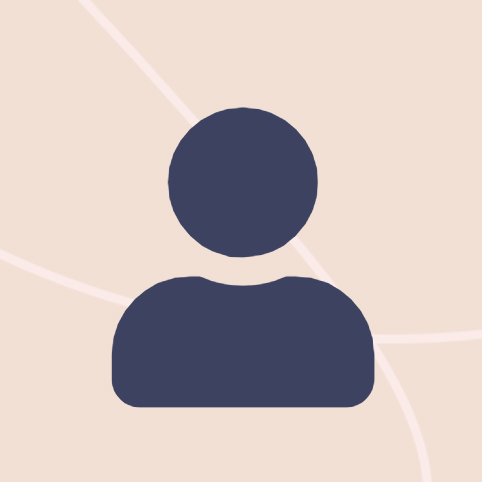 Basics, Branding, and Wordpress
In week 1, we cover everything from buying a domain to nailing down your brand's identity. Experienced bloggers will spend most of their time focusing on clarifying their vision and brand, while newbies will be busy with blog basics.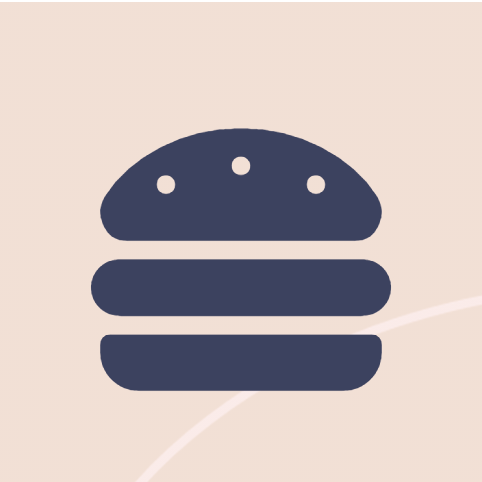 Recipe Development, Editorial Planning, Post Writing
We'll discuss effective recipe writing, the etiquette of inspiration, how to efficiently test recipes, and planning recipes and an editorial calendar for SEO opportunities. In week 4, we'll also cover how to write a recipe blog post clearly and concisely, what to include, what to omit, and how to balance SEO, the reader, and you, the blogger!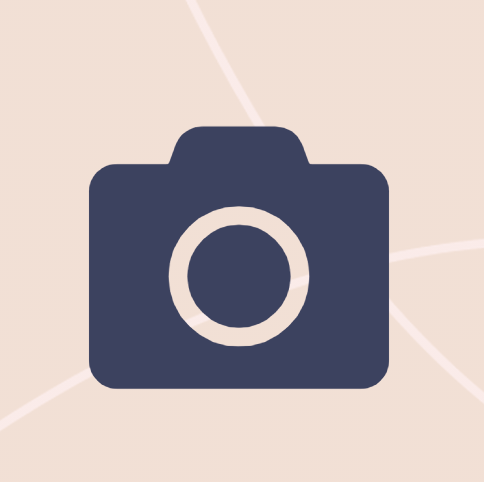 Photography: Part 1
From gear to selecting a signature style, natural vs. artificial light (and how to work with both!), food and prop styling, planning a shoot, and the method that Cheryl teachers her private coaching clients for instantly improved shots, developing food photography skills is one of the most important investments a food blogger can make. This week is designed for both newbies and vets.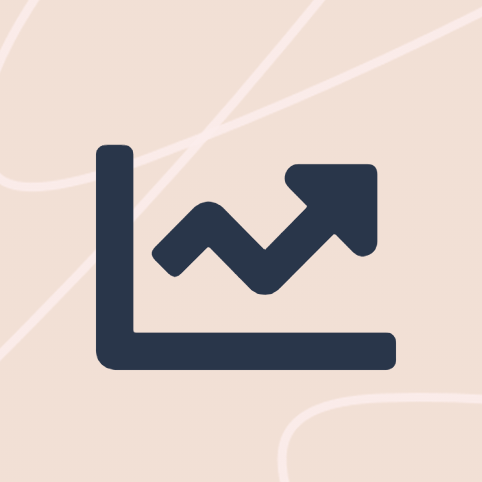 SEO
You're either addicted to SEO or terrified of it - is there any in-between? In week 5, we'll cover the SEO a food blogger needs to know after writing the post. From identifying the posts you should treat to actually updating posts, using SEO tools effectively and Cheryl's own personal workflow, plus the SEO strategy Cheryl implements on her own sites and with her private coaching clients.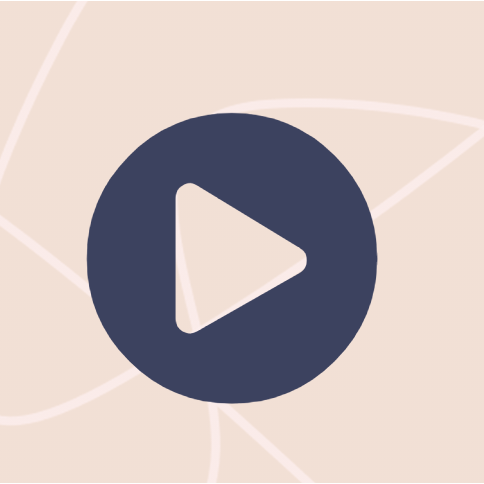 Photography: Part 2 + Video
In week 3, we finish the topic of food photography, discussing the ins and outs of what happens after the camera is turned off. From properly organizing photos and backing up your media to editing efficiently in Lightroom, we complete our focused discussion of food photography and switch camera modes over to video. We'll discuss why you should produce video in the first place, Cheryl's super simple method of easily shooting lovely video, and editing basics.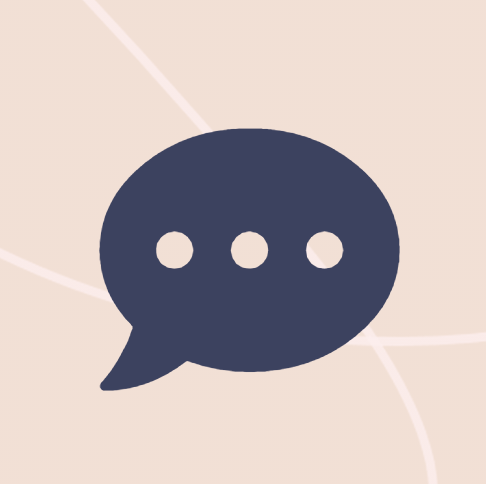 Social Media + Making Money
In week 6, we cover all things social media: Instagram, Facebook, Pinterest, plus TikTok, Jumprope, and web stories! We cap the program with discussion of how to make money with your food blog, from ad networks to affiliate programs, sponsored campaigns to brand representation, plus how to absolutely nail a branded campaign.
What Other Bloggers Have to Say:
"If you're thinking about investing in Cheryl's program, don't think twice about it. With 100% sincerity, Cheryl changed the game for my career, my business and my life. I was feeling stagnant and frustrated with blogging before the program and after I came out with a plan and tactics that helped grow my blog page views over 200% in just a few months. I went from making a few hundred dollars in ad revenue a month, to a few thousand in less than 6 months! Cheryl dives deep into everything you're doing wrong and doing right to build a plan that works for you. I have systems and strategies in place that allow me to make passive income and work more strategically in my business. Her teaching style (you'll become an SEO master, I promise!) is easy to understand and tailored to your blog, so everything feels very attainable and customized, which I loved. This was truly the best money I have ever invested in myself and one of the best decisions I have ever made for my business."
- Elizabeth van Lierde of The College Housewife
"Working with Cheryl as my blogging coach was one of the best things I ever did for my business. She gave me encouragement and practical step-by-step guidance to help me double my blog traffic in just a few months. Cheryl is one of those coaches who feels like a trusted friend and expert advisor. I highly recommend!!!"
- Carrie Forrest of Clean Eating Kitchen
"Hiring Cheryl as a blog coach was one of the best decisions I've made for my business to date. With her help, I was able to fast track my learning and grow both my traffic and my revenue in a matter of months. Cheryl has a clear, organized, teaching style that helped me zoom in on the aspects of my blog that could be improved and she provided me with step-by-step instructions on how to do it. We covered everything from photography and content to SEO and ad networks in a matter of weeks. If you are looking to improve your blog or want to put some effective strategies in place, I highly recommend Cheryl!"   
- Dani Spies of Clean and Delicious
For All Skill Levels
Designed to help both established food bloggers take their blogs to the next level and to support brand new bloggers develop their sites and get through launch, Food Blogging Bootcamp is suited for all experience levels.
---
A Proven Method
The bootcamp is designed off my established method for growing food blogs, implemented internally at 40 Aprons and Easy Healthy Recipes, with our clients at food blog VA agency 40A., and with my private coaching clients. It's proven to work! It straddles the balance between experts in individual fields and the needs of food bloggers and their readers. I know where you're coming from and won't tell you to consume yourself with any one thing, just focus on what really works and keeps food blogging enjoyable.